INFINITI has done a miraculous job in providing everything you could possibly ever want in a large luxury sport utility without sacrificing one iota of tasteful styling. That goes for the exterior of the 2018 QX80, as well. Past generations of the QX80 had some, shall we say, less than desirable styling attributes. With the 2018 model and some serious styling refreshes (particularly on the front end of the SUV), the QX80 strikes an imposing yet upscale figure on the roads.
INFINITI keeps it simple when it comes to trim levels on the 2018 QX80. There is essentially only one to choose from and it's available in two-wheel drive or in INFINITI All-Mode® 4WD configuration. Rather than a perceived negative, the lack of trims is actually a testament to just how well-equipped the QX80 actually is. As we mentioned earlier, it's a large sport utility vehicle and the automaker has most definitely packed it with every conceivable luxury option.
Another common complaint among potential large SUV owners or drivers is that these types of vehicles can feel lumbering or cumbersome to navigate on the roads. There's good news on that front, as well. The 2018 INIFINITI QX80 is packed with performance features to ensure you have all the horsepower and maneuverability you could ever need on the roads around Christiansburg and Blacksburg, VA.
We invite you to come visit Berglund INFINITI of Roanoke to get an up close and personal look at the 2018 QX80 for yourself. Nothing beats an in-person inspection and test drive when you are considering purchasing or leasing a new or pre-owned car, truck, van, or SUV.
Our Roanoke, VA INFINITI dealership will make sure you can take advantage of amazing offers on all our new INFINITI models so you get your best value. You'll also appreciate our commitment to providing the ultimate luxury car shopping experience at our store located at 5000 Franklin Road Roanoke VA 24014.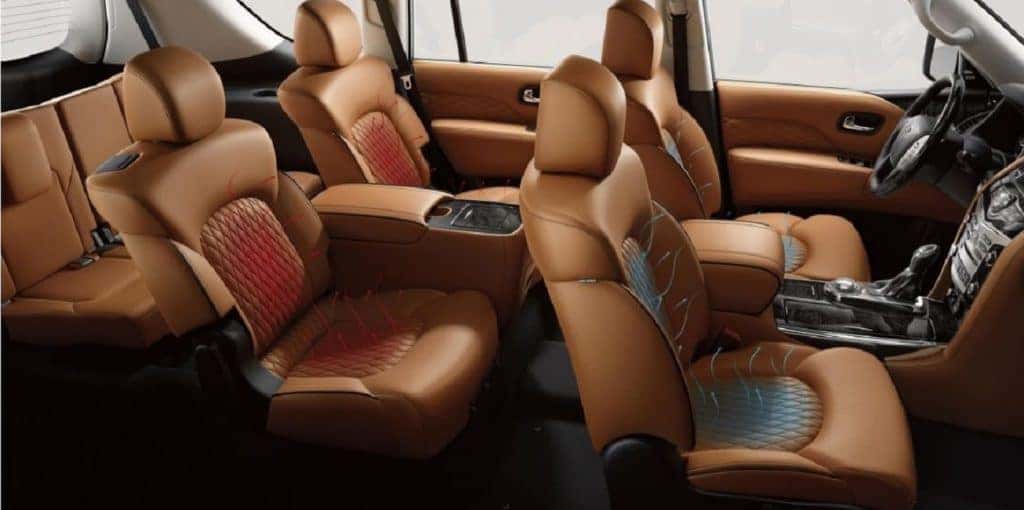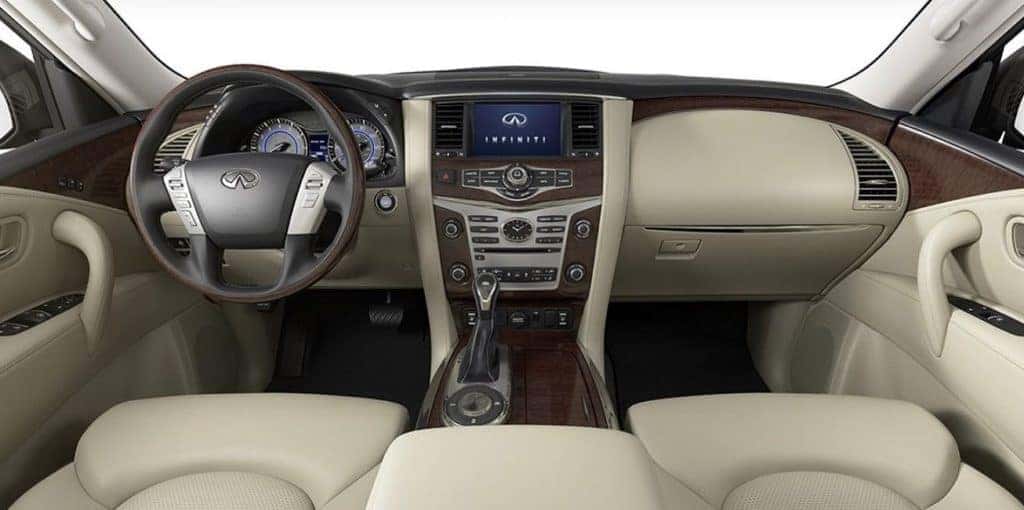 2018 INFINITI QX80: A Large Luxury Cabin
Spacious. Feature-packed. Tastefully appointed. That, in a nutshell, perfectly describes the interior of the 2018 INFINITI QX80. The SUV can accommodate up to eight passengers when properly configured and these aren't tight quarters either. Each and every occupant will enjoy premium comfort which definitely makes longer roads trips with the family more tolerable.
There are lots of subtle touches on the inside of the 2018 QX80, as well. For example, with the touch a button, you can "tip and fold down"second-row seats to give passengers easier access to the third row of seating. If you're looking to haul cargo, the second and third-row seats fold flat and provide 95.1 cubic feet of space for storage. The third row of seating also offers a power recline function – something rarely seen on most three-row crossover SUVs.
Tech features are abundant, intuitive and cutting-edge on the 2018 INFINITI QX80. The INFINITI InTouch™ Navigation system utilizes voice recognition technology and also provides SiriusXM Traffic™ services. There's also a variety of driver assistance tech features available including Intelligent Cruise Control, Distance Control Assist, Blind Spot Warning System, and Blind Spot Intervention.