Pre-owned Luxury Dealer Near Blacksburg, VA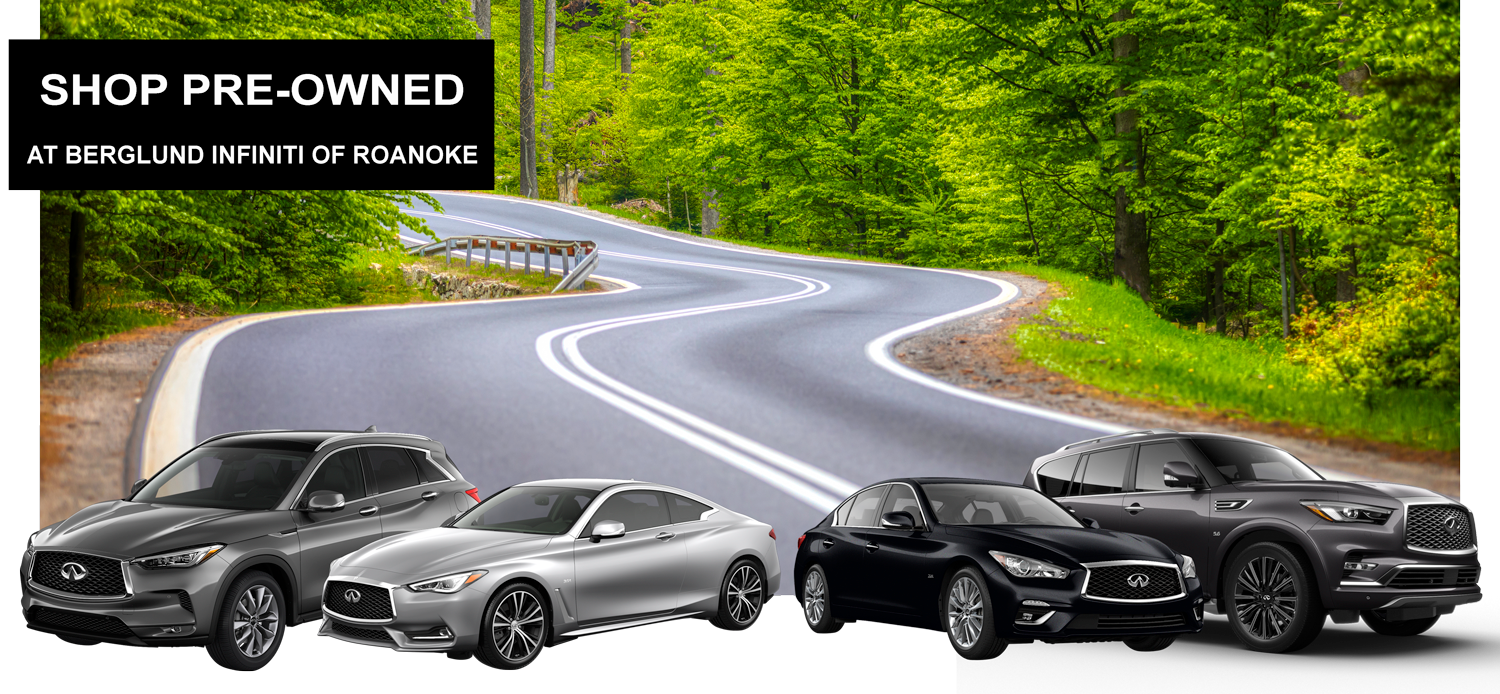 Berglund INFINITI of Roanoke: Your Pre-Owned INFINITI Dealership
At Berglund INFINITI of Roanoke, we are fully dedicated to exceeding your expectations and ensuring your complete satisfaction. Our highly-trained team works hard every time you visit to make your car-buying experience delightful. No matter what brought you to our dealership, we will do everything we can to meet your needs.
We can assist you if you're looking for a quality pre-owned luxury vehicle. Please feel free to contact us if you have questions about our vehicles. You're also welcome to drop by, especially if you live in Blacksburg, VA. Our dealership is less than an hour away from your location.
When searching for your ideal used vehicle, you want the purchasing process to be simple, easy, and satisfying. We at Berglund INFINITI of Roanoke share this objective. We are focused on finding methods to make your car-buying experience the best possible for you.
Our knowledgeable and friendly sales staff are always ready to assist. They will serve as your guides as you peruse our inventory. You can also take your preferred INFINITI models for a spin to determine which one resonates with you.
We will guide you through the financing or leasing procedure once you decide on your ideal car from our selection. By gathering appealing loan offers or introducing you to the great world of leasing, our on-site finance team will help you maximize your purchase potential.
We want you to feel confident about every element of your lease or purchase. We'll go over everything in detail, address any concerns, and provide the advice you might find useful as you choose how to get your hands on a used car.
Berglund INFINITI of Roanoke provides a large selection of used cars. In our inventory, you can find pre-owned INFINITI Q60, QX50, and Q50. We provide a sizable selection of high-quality used cars from other brands in addition to INFINITI models to further expand your option. You can choose from prestigious brands like Jaguar, Volvo, and Mercedes-Benz. We constantly update our selection. You can view our inventory online through our website.
Pre-owned Savings at Berglund INFINITI of Roanoke
Your automotive dreams can come true at Berglund INFINITI of Roanoke. We go above and beyond to ensure you drive home your ideal pre-owned luxury vehicle. Start by looking through our inventory online and take note of the vehicles that appeal to you. Then, when you visit our local dealership near Blacksburg, VA, you can test drive your choice. Take advantage of our excellent lease offers or enticing financing options, and bring home your ideal vehicle today.